Sanjeevani
Friends for Cancer Care (FORCE) – A forum of cured cancer patients
Kannur District Cancer Control Programme (KDCCP)
Early Cancer Detection Centre (ECDC)
Pain and Palliative Care Unit
Bi monthly follow up Clinic for cancer patients continuing treatment
UNFPA-IPD Malabar Cancer Control Programme
WHO/IARC Cervical Cancer Control Programme
Telemedicine Unit
Mobile Cervical Pre-cancer and treatment Unit
School of Colposcopy and training centre of WHO/IARC
Anti - Tobacco Activities

Our Programmes

Read more
Our Associates
MCCS' activities
One of its major activities was the Kannur District Cancer Control Project (KDCCP) inaugurated here by Mother Teresa in 1994. The cancer awareness-cum-early detection programme covered nearly 2 million people in the district. MCCS established Early Cancer Detection Centre in Kannur in 1996.
For the MCCS, a Non-Governmental Organization formed with the support of volunteers here in 1989 to offer succor to cancer patients, the launching of Tele-medicine Mobile Unit is a major milestone. The MCCS is a Tele-medicine Nodal Centre of the RCC since 2004 as part of the Onconet Kerala, a joint venture of C-DAC Thiruvananthapuram and ISRO Bangalore . MCCS is also a NODAL AGENCY of the State Government for Cancer Control.
Started Bi-monthly follow up clinic in 1998, UNFPA aided collaborative project in 2000-2003, WHO/IARC collaboration in 2003, Telemedicine Unit in 2002, Mobile Cervical Cancer detection an d treatment unit in 2004, FORCE (Friends for Cancer Care), a FORUM of Cancer Survivors in 2006, organized CANFAIR. Started the Sanjeevani Mobile Telemedicine Project in 2010.


CANFAIR 94 - The Historic All India Exhibition
The prestigious CANFAIR 94 was the foundation and back bone of the treasury of MCCS.
2 million people visited the exhibition and they were made aware of the cancer.
Tremendous support received by MCCS from the public resulted in netting Rs. 8.5 lakhs as corpus fund.

KDCCP ( Kannur District Cancer Control Programme )
KDCCP aims to take cancer awareness messages, screening for early detection of cancer, cure and rehabilitation of patients at the doorsteps of rural masses in the district through trained volunteers in six stages.
First stage being Organizational meeting of KDCCP.
Training of educated volunteers is the second stage.
At the third stage house to house , person to person cancer awareness, detection and survey of cancer by trained volunteers were conducted. Anti-tobacco awareness is also carried out vigorously at this stage.
Village Level Medical Camp by specialist doctors from RCC, Thiruvananthapuram.
Treatment of cancer patients at RCC, RCC, Thiruvananthapuram.
Follow up and rehabilitation of treated patients
During the last two decades KDCCP was carried out in 84 Panchayaths and 5 Municipalities  in Kannur District with a 2.4 million population coverage. 1345 pre-cancer and 1102 cancer cases detected and advice given for complete relief and healthy living. We could remove many misconceptions regarding cancer by providing awareness at the grass root level. The follow up and social support provided under the scheme brought new life to many of the cancer patients.
As part of KDCCP vigorous Anti- tobacco campaign is being carried out in all the above Panchayaths and hundreds of people having the habit of smoking, chewing of tobacco, etc. abandoned the habit. On account of the above, use of tobacco has come down by 30-40 %.
We have undertaken review of the activity to know the effect of our project and we could understand that the awareness has reached very fast among the rural masses and majority of them are now capable of self detection of accessible area cancers. Likewise the tobacco use also has been reportedly reduced by 30-40 %. As such the KDCCP can be termed as a cost effective and result oriented programme to contain the challenges paused by the dreaded disease.
Bi-monthly Follow-up Clinic
Those Cancer patients in need of continuous treatment for a long period find it very difficult to undertake frequent travel to R.C.C Thiruvananthapuram. The concern of these patients were taken care on starting bi- monthly follow ups clinics in 1998 by M.C.C.S in Kannur. A Team of Doctors from R.C.C visits Kannur for providing follow ups services to patients from Kasargode, Kannur, Calicut and Wayanad Districts. The services are most beneficial for the patients with savings of money as well as manpower otherwise required for travel to Thiruvananthapuram, a far away place. About 3019 patients
are now registered with M.C.C.S for the above services and the clinics are successfully carried out.
Read more
Pain and Palliative Care Clinics.
For providing solace to terminal stage Cancer patients M.C.C.S has started Pain and Palliative Care activities in the year 1999. All patients attending the clinic are given free services and medicines are distributed free of cost. M.C.C.S is also organizing a weekly clinic at District Hospital, Kannur.So far 723 patients have registered for the services of the Society under the scheme.
UNFPA Aided Malabar Cancer Control Project
MCCS is one of the partners of the prestigious UNFPA aided Malabar Cancer Control Programme jointly organized by RCC, Thiruvananthapuram and Department of Health Services of Govt. of Kerala. The programme aiming to conduct cancer screening camp in one taluk each in Kannur, Kasargod and Wayanad Districts. The project mainly concentrates on early detection of cervical, oral and breast cancers which are preventable. The thrust given is for screening all the married women in the age group of 35-55 through Paps Smear test and Self Breast Examination. People coming with early symptoms of oral and other cancers are also screened. The pre-cancer cases are directed for proper treatment and cancer cases are referred to RCC or Medical College Hospitals. As part of the project weekly camps are conducted at the ECDC.
WHO / IARC Collaboration
In the Year 2002 M.C.C.S achieved another success by establishing collaboration with WHO/IARC. The new concept of VIA-VILI established by WHO was introduced by M.C.C.S for the benefit of women population in the area. The simple and safe method of detecting Cervical Cancer was started implementing by M.C.C.S in Kannur , Kasargod, Wayanad and Calicut Districts with the support of WHO. The detection and on the spot treatment for Cervical Pre-Cancers is undertaken under the project.
The School of Colposcopy and Training Center of IARC and MCCS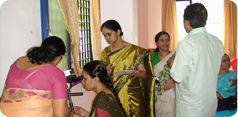 In the Year 2006 MCCS started The School of Colposcopy and Training Center of IARC for training medical and para-medical personnels of three Districts of Malabar and the training activities are going on successfully now.




Friends For Cancer Care (FORCE)
FORCE is a forum of CANCER SURVIVORS involving Doctors, Counselors and Cancer Survivors meant to address various problems hitherto not attended .
During the year 2006 a novel programme was launched by MCCS to address the manifold problems faced by cancer patients new, under treatment, and cured – to ensure total rehabilitation.
Integrated medical care by providing the fruits of Ayurveda, Yoga, Homeopathy and Naturopathy under the supervision of Allopathy was initiated.
The review and evaluation is being done on quarterly basis by the Medical Advisory Board of MCCS
The first six months evaluation indicates that 30 Cancer patients undergoing the services of FORCE showing wonderful results.
A support group to ensure Comprehensive Rehabilitation of Survivors.
Support of the FORCE for new cancer cases, those undergoing treatment and for the survivors to ensure the Rehabilitation in the main stream of the society.
FORCE aims to work through 4 Sub Groups duly represented by experts and survivors.

Health Group:- Intends to provide integrated health care programmes by providing the fruits of other system of medicine such as Ayurveda, Homeopathy, Yoga and Naturopathy etc along with modern medical care.
Counseling Group: Aims to provide Psycho-socio support with the co-ordinated effort of Psychologists and social workers with the assistance of treated cancer patients not only for cured and those undergoing treatment but also for new cases for motivating them to take treatment with more confidence and mental strength.
Financial Group:- Intends to support in financial matters through liaison with other agencies including Govt. agencies.
Social Activation Group:- Aims to put forth a strong shield in the society through mass awareness against the use of unhealthy food, excessive use of pesticides etc. that causes cancer and health hazards.


Forum of Cancer Survivors
The services of MCCS to cancer patients is unique. ISRO is ready to support for a Mobile Telemedicine Unit for MCCS, Kannur
Dr.G.Madhavan Nair, Former Chairman, ISRO, Bangalore seen Launching the FORCE Activities

Members of FORCE participating in a Yoga session


Members of FORCE participating in a Yoga session

Members of FORCE participating in a Yoga session

Popular Cini actor Jagadheesh seen inaugurating the family get-together of FORCE Members on 15-8-2007

Sri.M.Madhavan Nambiar.IAS seen handing over certificates to FORCE members who have participated in Yoga Therapy

Dr.R.Sankaranarayanan sharing the view of FORCE members

Sri.Bharath Bhooshan.IAS seen interacting with members of FORCE
WHO
WHO/IARC notified MCCS, Kannur as one of the collaborating centers of WHO.
The new procedure invented and adopted by WHO to detect cervical cancer implemented in MCCS, Kannur.
The Cervical Cancer Control Project jointly implemented by MCCS and IARC from 2003-2005.
NSS
Govt. of India Cancer Control Activity